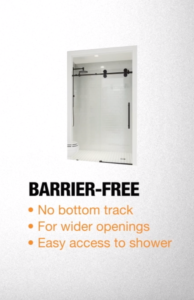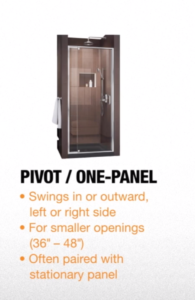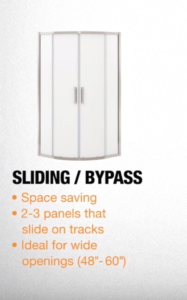 Shower Type
Before you choose a shower, you must determine which type of shower you will have in your bathroom. Different types of doors will work better for different showers. There are three different shower types.•
AlcoveShowers:
This type of shower is a simple option that includes only a shower with no tub.
• Tub Showers: These are one of the most common types of showers, and they have both a tub and a shower.
• Neo Angle/Neo Round Showers: Like alcove showers, corner entry showers do not have a tub. These showers are built into the corner of a bathroom. Neo angle showers feature straight panels on either side of the door while neo round showers feature rounded panels with a sliding door.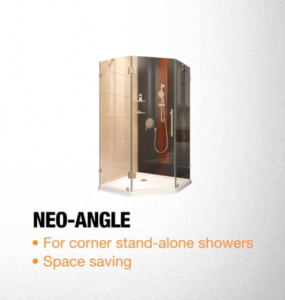 In addition to the type of shower you have, you should also consider the size and design of your bathroom to determine which door will fit best.
---
Measurements
Next, you must determine the correct door size you need for your shower. It is important to get accurate measurements before you begin to shop.
• Width: Measure your shower from wall to wall in three places, the top, middle, and bottom of the shower. These measurements may vary. Use the largest measurement for your "width" measurement.
• Height: Measure your shower from top to bottom. If you are measuring a tub shower, measure from the top of the shower to the edge of the bathtub. If it's a shower only, measure from the top of the shower to the base. Keep the height of the tallest person in your home in mind as you measure.
Door Types
The type of door that you choose will depend on the size and design of both your shower and your bathroom.
Swing shower doors open into the room like traditional doors. These doors are best for large bathrooms where there is space for the door to swing open or small showers with a small opening. There are two types of swing doors—pivot and hinge doors.
• Pivot doors feature hinges that are secured top-to-bottom for an uninterrupted frameless look.
• Hinge doors open into the room in one direction. These doors can be sealed to keep steam and water inside the shower.
Sliding doors use a track to slide open. These doors are a great option for tub showers with a wide opening. They are also good for small bathrooms because they require less space.
---
Glass Type
The type of glass used in the shower door can alter the look of your bathroom. There are three different options for your shower door.
• Clear glass doors have no texture or patterns. They feature a clear glass door for a simple yet elegant look.
• Patterned doors feature a specific design etched on the door to create an artistic focal point.
• Textured doors feature a unique texture on the door for a stylish look and a bit of extra privacy.
Framed vs. Frameless
Shower doors are available in either framed or frameless varieties.
• Framed doors feature a metal frame around the door. These are available in a variety of different finishes to match your bathroom. Framed doors tightly seal in steam and moisture to prevent leaks.
• Frameless doors feature a new design without any frames. These doors are easier to clean and can give your bathroom a chic, modern look. These doors also typically feature thicker glass.
Custom Options
In addition to our wide selection of stock shower doors, you can also choose to custom design a shower for your bathroom. These showers are specially designed to match your bathroom's décor, size, and layout. This option is only available in stores.