What Is An ADU?
Sunshine, the ocean, incredible city life, an extremely competitive and expensive housing market — ahh, California. We love this state for so many reasons, but when it comes to housing prices, that love feels unrequited.
Accessory dwelling units or ADUs are a housing solution that capitalizes on the need for rental properties and extra space. Built like an apartment on your property, ADUs provide an extra revenue stream for homeowners — especially helpful when going towards those sky-high Bay Area or LA mortgage payments.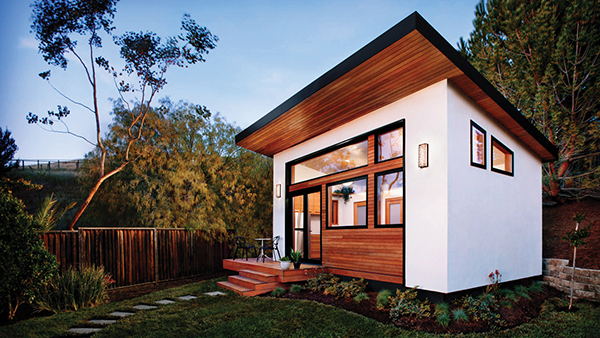 ADUs are separate living spaces that you own on your property.
There are two main functions that an ADU can serve:
Guesthouse
Great for hosting short- or long-term guests. Grandparents and in-laws can stay permanently; friends and other family have their own space when visiting.
Rental Property
Most California ADUs are built for rental purposes. Homeowners love this form of passive income and renters love having their own space.
There are also two ways to create an ADU. Homeowners can either build a brand new, freestanding unit or convert a garage into a living space.
ADUs are a better rental property investment.
Traditional rental property investing has more drawbacks than people care to admit. Investors have to find a property — a very tough thing to do in competitive housing markets like LA and San Francisco. They have to deal with whatever issues the property comes with AND they're taking on a second mortgage. If they don't have renters, their investment will tank.
ADUs have the same benefits as traditional rental property investing, without the drawbacks:
Much less expensive than buying a new property
Doesn't require an additional mortgage
New building = no need to fix things up
Close proximity means you can easily address tenant concerns and keep an eye on your rental
Adds value to your existing property
You don't need to find multiple renters like you would with a house
Can function as a guesthouse as needed
How does ADU construction work?
It varies from company to company. At Eanovation, we have a dedicated team of building and remodeling contractors who provide all the ADU basics: building permit, rough framing, epoxy floors, etc.
This is our "barebones" and most affordable route but you can easily add on our interior finishing services, in which we add vanities, lights and fixtures, to name a few. Most people opt for this so that everything can be knocked out by professionals in one go. It saves on time and money, and don't forget: even with this option, you're still saving drastically compared to buying a new property.
How long does it take to build an ADU in California?
ADU construction timelines are highly dependent on building permits, as well as the contractors you go with.
With other Bay Area remodeling contractors, permits can take weeks to months to come through — this isn't the case with Eano. We actually have a permit-approved ADU model, meaning your rental property starts sooner (and so does your passive income). Or if you're treating your ADU as a guesthouse, grandparents and in-laws can move in faster.
How much does ADU construction cost?
Expect to pay at least several thousand in ADU construction and permit costs. Prices vary depending on the size of your ADU, customizations, the amount of construction needed and the contractors you work with. At Eano, we charge roughly between $200 to $350 per square foot for labor, not counting permit or design.
Curious to see how much an ADU for your property will cost? Remodeling research shows that Eano is faster and more affordable than any other renovation company. Contact us for a free quote and start dreaming about what an ADU will do for you.