It's probably one of the most difficult times in history, we are not sure when the pandemic will end, but we know that it will end eventually. And most importantly, we are all in this together to get through this crisis. Worried about your 401k and panicked over the stock market? It's time to consider one of the best investment options while staying-at-home: Applying for an ADU permit and getting your ADU design plans done.
ADUs would be a perfect way to boost your home equity. By adding an extra living space – could be a bedroom, bathroom, or a whole living studio, you could easily increase your property value by hundreds of thousands of dollars. ADUs use the space you have – garages, carports, backyards, basement, etc. and turn it into a customized space at your wish.
ADU In Pogress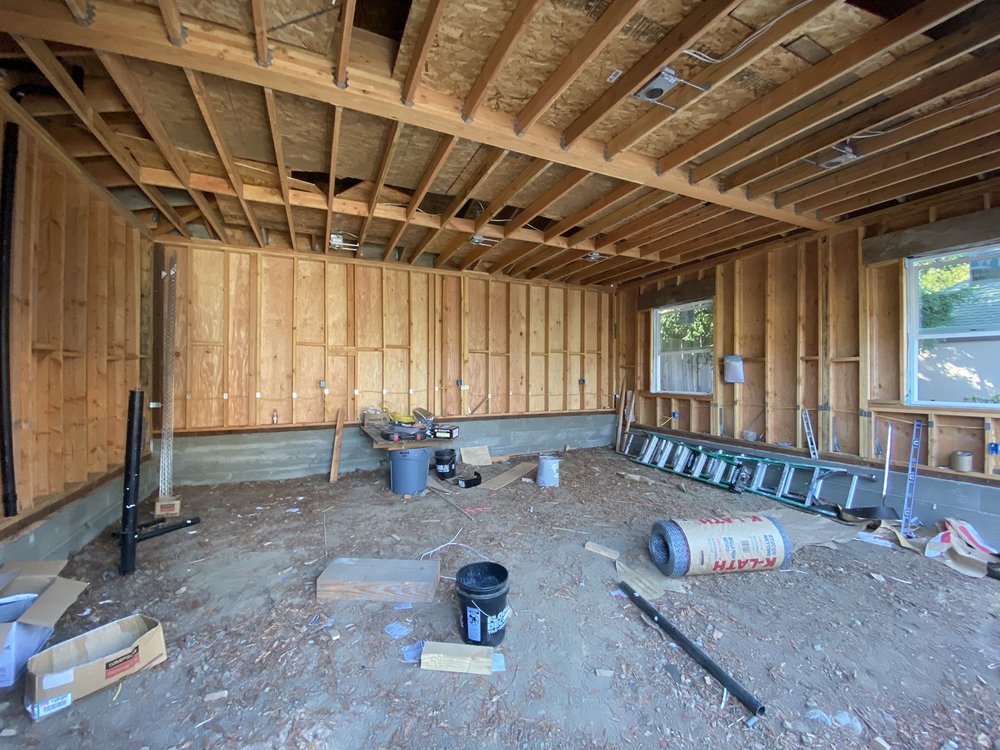 Why you should start an ADU now?
Virtual Consultation
While staying at home, by simply schedule a virtual consultation with one of our Enovation ADU professional, we would cover any questions and concerns that you have around ADU design and build. Schedule an appointment today! By listening to your needs and by virtually showing you our ADU gallery, it'd be a great starting point to position your own ADU.
Prepare design ahead
Even though Eano's team is proud of its efficient design schedule – usually takes 2 weeks to provide our customer's with a satisfying ADU design. In the meantime, we want to make sure that you could secure your best ADU design ideas before we nail down the details. There are times that it's really hard to make a decision among so many great ADU designs provided by Eano's design professionals. In our comprehensive ADU design package, we would have all whole house measurement, peripheral measurement, ADU drawing, etc. We would also have all the construction pricing calculated in details for you, including lay foundation, wood structure, wire layout, water pipe layout, waterproof and soundproof, wall installation, gray, paint, primer, garbage disposal fee, construction site management, government inspection and pass arrangement, etc.
Secure the construction appointment and materials
The time needed for processing popular materials would increase and suppliers would likely run out of inventory due to the current supply chain disruptions. It's always wise to order early to secure your needed construction materials. Though our construction workers are taking a break at home, they are already getting a lot of appointments scheduled once everything goes back to normal. It's equally important to secure their spots for building your ADU earlier than later.
Get permit approval at home
Applying for an ADU could be a tedious and timing process, which makes it even more important to start early once you have made up your mind of owning an ADU. Eano's team has rich experience in helping our clients not only getting their favorite ADU designed and built, but also preparing all the materials and giving guidelines along the ADU permit application processes. We know all the tips and tricks on getting an ADU permit done.
Get the construction going post shelter-in-place
Once we have completed the ADU design and pre-construction preparation work done, it'd be a more enjoyable and predictable ADU renovation experience with Eanovation. With Eano's software, you could easily track all the processes of your ADU construction process on when you could get your floor materials ordered and delivered, when could you get your ADU permit in hand, when you could check on your ordered materials in our warehouse, etc. If you ever have any questions, our team could always be there to help you virtually to make sure the whole ADU construction process is on track and make all the necessary changes accordingly per your need. Together, we would have everything in place when things go back to normal.
Now, are you ready to embark on an amazing ADU journey with Eanovation?