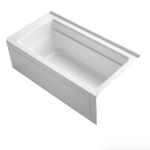 Installation Types
Before you choose a bathtub, you must decide which type will work best in your bathroom. Different installation types work better for different kinds of spaces. There are five different kinds of bathtubs:
• Drop In: This type of bathtub sits within a built-up deck structure with the rim of the tub at the same height as the deck. This style of bathtub usually comes with one removable side to access plumbing.
• Alcove: These types of bathtubs are typically rectangular and are installed adjacent to three walls. Most come with a vertical lip that fits under the surrounding wall tile.
• Corner: These types can take the form of either drop-in or alcove style. The difference is that this type fits snugly into the corner of your bathroom and is usually more of a triangular shape.
• Undermount: This style is similar to drop-in tubs, but the tub sits under the built-up deck structure.
• Freestanding: This type stands alone on the bathroom floor with no adjacent support structure. Claw-foot and vintage bathtubs are examples of this style.
---
Drain Location
For certain styles of bathtubs, it is important to consider the location of the drain. The drain location is most important when purchasing an alcove-styled bathtub. Determine whether you need a left hand or right hand drain position by looking at the location of the drain opening in your bathroom. If your drain opening is on the left, you need a left hand drain; if it is on the right, you need a right hand drain. Drop-in, undermount, and freestanding tubs generally have universal drain location capabilities.
---
Measurements
After you decide which installation type is right for you, you must determine the correct size of bathtub for the space you have available. It is important to get accurate measurements before you begin to shop.
• Width: Measure the longest width of the space where you plan to put your bathtub, ensuring that you get the most accurate measurement possible. If you're building a new bathroom and space is flexible, consider the height of the tallest person in your home when choosing the width of your new tub. Don't forget to consider the width of door spaces when remodeling an already existing bathroom.
• Depth: Getting an accurate measurement from the wall or deck opening to the front edge of the bathtub is most important when purchasing drop-in, alcove, or undermount-style bathtubs.
• Height: Another measurement to consider before shopping is the desired height of your bathtub. This is the height of the apron and should not be confused with soaking depth. If young children or elderly family members live in your home, choose a bathtub with an appropriate height so they can safely get in and out of the bathtub without tripping.
---
Types of Bathtubs
The type of bathtub you choose will greatly affect your bath time experience. In addition to the general-purpose style of bathtub, the following are other types of bathtubs to consider.
• Soaking: This type of bathtub generally holds more water than other types because it is deep enough to immerse your whole body into the water. They come in various shapes and styles, and the amount of water they can hold varies greatly depending on the style you choose.
• Heated Soaking: Much like the standard soaking tub mentioned above, this type of tub adds a heated pump that recirculates the water in the tub to maintain the water temperature for a longer, more relaxing soak.
• Whirlpool: This type of bathtub injects water into the tub and then stirs the water, creating a therapeutic experience. Both whirlpool and airpool-styled require other equipment such as pumps, filters, hoses, etc.
• Airpool: This type of bathtub is similar to a whirlpool style, but instead of water, the airpool shoots air bubbles into the bath to create thousands of bubbles that invigorate the water.
• Combination Tub: This tub features the two systems mentioned above, whirlpool and airpool therapy, so it will give you the best of both worlds. When combined with an inline heater, it provides the optimum bathing experience.
---
Types of Materials
Finally, you must determine the type of material that is right for you. Each material has its pros and cons, and not every style of tub comes in every type of material.
• Cast Iron: Cast iron bathtubs usually come in alcove or freestanding styles. It is widely known as one of the most durable materials for bathtubs. The cast iron is typically covered with a porcelain enamel coating. Cast iron bathtubs generally require a good support structure underneath because of the combined weight of the material and water. These have fallen out of favor over the years due to their production costs and excessive weight that makes them difficult to install.
• Enamel-on-Steel: Similar to cast iron bathtubs, enamel-on-steel tubs follow the same concept in that the steel is covered with a porcelain enamel coating. The difference is that steel is lighter than cast iron, which makes it easier to maneuver the tub into your bathroom.
• Acrylic: Acrylic is a form of plastic used to make bathtubs that are much lighter than the above models. Similar to the above styles, it is a high-gloss material that is easy to clean and easily repairable. This material is one of the most commonly used in the industry.
• Fiberglass Gelcoat (FRP): This type of material is very similar to acrylic in that it is also a high-gloss, easily cleaned material. It is normally found in whirlpool and airpool-style tubs. It is different than acrylic in that it tends to be less durable and more easily scratched.
• Composite: This type is usually a proprietary blended engineered material. This technique is thought to achieve the benefits of cast iron bathtubs, such as heat retention and a durable surface finish, without the extra weight.
---
Other Things to Consider
• Starting Point: Replacing an old bathtub puts many more size, weight, and plumbing constraints on the type of bathtub that will work in your existing bathroom. On the other hand, if you're building a new bathroom, size and weight matter less giving you more options to choose from.
• Comfort: Depending on what you plan to use your bathtub for, there is a different style that will provide the most comfort for each purpose. For example, a free-standing soaker would provide the most comfort for those who plan to take long, luxurious baths on a regular basis, and an alcove tub would provide the easiest access for bathing young children and pets regularly.
• Weight Constraints: If necessary, speak with a professional about whether or not the floor of your bathroom can handle the weight of the bathtub you're planning on buying before you make your purchase. Make sure to consider the weight of the bathtub filled with water plus your own weight when determining how much weight the floor can handle.